General Description
Relationship
Agreement and Value created
Safeguards
Mission March 2010
The
agreement
between Caffè River and NUCAFE is quite different from a standard contract for the purchase of coffee. It would not have been enough to simply offer a
much higher price
than that which is usually paid on the market - an offer like that would have left almost all the farmers unable to sell the
coffee
because such a sale requires capital and know-how.
The agreement with NUCAFE is instead a multifaceted effort of collaboration that adopts many different measures to target the obstacles which prevent the empowerment of the
farmer
, with the final purpose of creating the necessary conditions for his access to better sources of income and reduce his own poverty.
To better appreciate such an approach and its potential impact, we list here the most important elements included in the agreement, alongside the problems that they are targeting.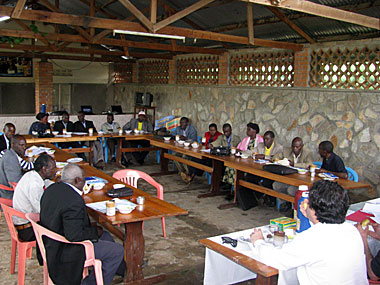 | | |
| --- | --- |
| Issue | Contractual provision |
| Low prices | The prices paid by Caffè River are currently 30/40% higher than the standard prices shown by Uganda Coffee Development Authority (www.ugandacoffee.org), with a mechanism to increase them if the international market should expand. |
| Effect of middlemen | The price will be entirely paid by Caffè River to NUCAFE which in turn, will transfer it to the associations of coffee farmers, deducting only the cost of processing and transportation services. Therefore, the farmer will receive a higher price compared to the market free from the intervention of middlemen. |
| Quantity of product | As it is difficult to anticipate the quantity of the different kinds of coffee that will be produced, Caffè River has guaranteed its willingness to accept any quantity, however large. |
| Currency fluctuations | Prices have been agreed in Ugandan Shillings, the national currency of Uganda. For farmers this means avoiding any risk of currency fluctuation (which Caffè River will have to face) and therefore a more reliable income. |
| Financial needs | Farmers cannot wait for long for the coffee to be correctly processed and therefore they are prey to middlemen. For this reason, Caffè River has offered a financial fund based on trust that NUCAFE will use to support the many farmers in financial need. |
| Delivery | Coffee is usually delivered to sea ports. As Uganda is a landlocked country and organising transportation to Mombasa (Kenya) is demanding, Caffè River has accepted delivery to Kampala (Uganda) and it will take direct care of transportation to Italy. This removes this obstacle for farmers and accelerates their receipt of money. |
| Continuity | Caffè River has committed itself to guaranteeing a renewal of the agreement if the terms of this one are adhered to. |